Luxury yurt glamping holidays in Pembrokeshire - alas no more
We are really sorry but due to increased demands on our time and a dodgy knee, we have very reluctantly stopped doing the yurts
The decision to do this was a difficult one, not least because so many of you have enjoyed 'glamping' with us over the past 11 years - and because we built the yurts ourselves, we were very 'connected' to them. So thank you to all who stayed in the yurts. We hope they gave you as much pleasure as they gave us.

The good news is we've sold the yurts to two other Greener Camping Club sites. So if camping is not your thing, please head on over to Quarry Park Camping in Pembrokeshire or Tipis at Ponty in Powys. Great yurts, amazing campsites, lovely owners.


Introducing our Premium Secluded Camping Pitches!
If you can bear to drag your tent out of the attic, we have converted the yurt pitches into premium secluded camping pitches. So each pitch has the original camp kitchen shelter with picnic table, compost loo - and a gas heated hot shower too! Find out more.
Welcome to Pembrokeshire!
Get back to nature and enjoy a fantastic camping holiday at this totally unique campsite.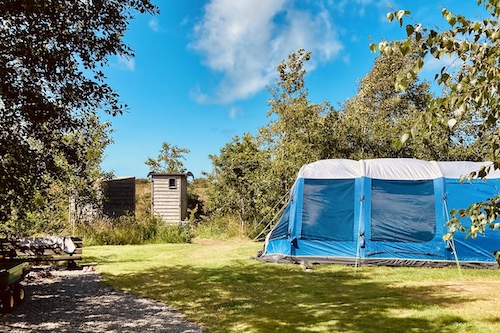 Close to breathtakingly beautiful coastline and unspoilt beaches
52 acres of private farm and woodland to enjoy and explore
Just 15 spacious camping pitches
Cosy campfire and picnic table on every pitch
Pizza nights right through the summer!
Five-star showers and facilities
Undercover areas for rainy days
Body boards and children's wetsuits available to borrow
It's the stuff of lasting memories, with our peaceful location, friendly atmosphere, great facilities, crackling campfires and spacious pitches.