Welcome to Ty Parke Farm Camping
Ty Parke is a quiet, secluded, family-friendly campsite in Pembrokeshire, tucked away in the little hamlet of Llanreithan, near St Davids and close to the rugged north-west coast. The campsite is at the end of a long track, away from any roads. The sky is huge, the sunsets can be amazing and the night times very dark - this is a great place for star-gazing!
What makes us a bit different from many other campsites is that we only ever take a maximum of 10 camping bookings (plus three yurt bookings) at a time, on a site that could easily accommodate one hundred or more tents. And because you need to be pre-booked to stay, it makes for a very friendly, personal and safe holiday environment.
Peace and quiet camping with campfires and great facilities
If you like to get away from it all, enjoy peace and quiet with
great facilities
- and the experience of a real campfire, perhaps this is the place for you. Ty Parke is perfect for
family camping holidays
with children, young or old - or couples and friends who want to explore and play in this beautiful part of Pembrokeshire.
Not just camping - luxury yurt holidays too
As well as great camping, we also have
three yurts
that are available from May until September for holiday bookings. Our yurts provide a very luxurious alternative to camping and can be booked for the full week or, out of the high season,
short breaks
too.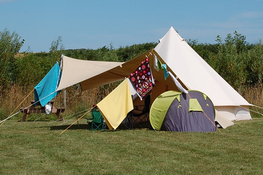 Camping - just as it should be
We set the campsite with the aim of providing an alternative to the large, commercial campsites that lack camping pitch space, tend to be noisy and most important of all, don't allow campfires! There's always a friendly atmosphere here, with children playing, mums and dads chopping wood, people just relaxing, reading and having fun. We're always on hand to help or answer questions about the area or just to have a chat.
Just 10 very spacious camping pitches
With only ten camping pitches let at any one time (
including five secluded pitches
), three
luxurious yurts
and
great facilities
, we're often told that Ty Parke is one of the nicest campsites in Pembrokeshire. For this reason it's essential to
check availability
and
pre-book
your stay. The school holidays tend to get booked very early on in the year.
Close to Pembrokeshire's favourite beaches
Even though we are off the beaten track, we're only a few minutes drive from the sea and the many unspoilt beaches and hidden coves that surround us. If you are new to Pembrokeshire - you are in for a pleasant surprise. There is nothing quite like it anywhere else in the UK. Some people describe it as Cornwall, 50 years ago (we think it's better!).
Never short of things to do and see
As well as great camping and yurt holidays, there are
many activities
you can try, such as
coasteering
, kayaking, body-boarding, surfing, cycling and pony trekking. Pembrokeshire is home to many fine artists who exhibit their work in the galleries around about. Good food and local produce are bountiful.
Or just chill out and enjoy this unique campsite
And if all that sounds like too much choice - just relax and explore the campsite, where we have paths, tracks and hideaways criss-crossing our 52 acres of rolling Pembrokeshire farmland and where you'll discover sheep, lambs, a few horses and thousands of young trees. And if you're lucky, you'll see badgers, foxes, buzzards, kestrels, red kites, barn owls, swallows and swifts.
Probably the most spacious camping in Pembrokeshire
If you are fed up with being squeezed on to a tiny camping pitch, prepare yourself for the most spacious camping pitches in Pembrokeshire - if not Wales. Our family camping meadow rarely has more than six or seven tents in it and all of our secluded pitches have literally acres of space. Treat yourself to what camping should really be all about. Welcome to the great outdoors!
Early pre-booking is essential
The campsite gets booked up very quickly, especially Whitsun week and the school holidays. So to avoid disappointment and secure your camping pitch or yurt holiday, please be sure to book early. Look at our
campsite availability
page, use our
contact us
page, or call us on 01348 837384 to check the availability of your holiday dates.